Home > American Cheeses > American Artisan Cheesemakers S -Z
---
American Artisan Cheesemakers
Index S - Z

All the Facts You'll Want to Know!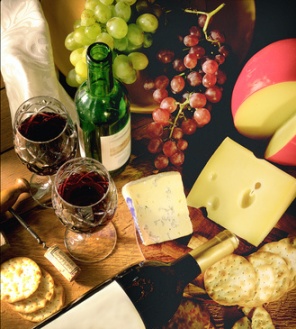 Roth Käse
2108 6th Avenue
Monroe, WI 53566
Phone:608-325-4636
www.rothkase.com

Cheeses: A Wide Variety of Artisan Cheeses

Grand Cru Gruyère - Handcrafted in imported copper vats, carefully aged, full-bodied and robust.
Grand Cru Gruyère aged 4-6 mos., Gruyère Reserve aged 6-9 mos., Gruyère Surchoix aged 9+ mos.
Bleu Affinée - Raw milk Blue from Jersey & Holstein cows. Cured for at least 6 mos., piquant, earthy flavor.
Vintage Van Gogh - Gouda style, from full cream milk, aged at least 6 mos. Mellow, mild and very creamy. Undertones of caramel and coffee.
Other European style cheeses are also produced.

Roth Käse U.S.A. (now more properly called Emmi Roth U.S.A.) is a subsidiary of the well-known Swiss Emmi Group. Descendants of Swiss Cheesemaker, Oswald Roth, came to Wisconsin in 1991 and began to produce a line of artisan cheeses in the European tradition. In 2009 Emmi AG acquired Roth Käse.

"Our cheesemakers get an early start to the day, so the best times to catch some action in the viewing hall are from 9:00am to 1:00pm. Cheese sold onsite and visitors can watch cheese being made." (from website)
---
Shelburne Farms
1611 Harbor Road
Shelburne, VT 05482
Phone: 802-985-8686
www.shelburnefarms.org

Cheeses: Cheddar

Farmhouse Clothbound Cheddar - Raw milk from Brown Swiss cows. Fifteen 40 lb. wheels made daily! Different aged varieties available, from 6-9 mos. up to 3 years. Multiple Award Winner!

Shelburne Farms is much more than a cheesemaking dairy! It's well worth a family visit!
"Shelburne Farms is a membership-supported,nonprofit environmental education center, 1,400-acre working farm, and National Historic Landmark on the shores of Lake Champlain in Shelburne, Vermont. Our mission is to cultivate a conservation ethic for a sustainable future. Casual visitors may enjoy the walking trails, children's farmyard, inn, restaurant, property tours and special events. To pursue our mission, we practice rural land uses that are environmentally, economically and culturally sustainable. Shelburne Farms was created as a model agricultural estate in 1886 by William Seward and Lila Vanderbilt Webb. Our nearly 400 acres of woodlands are Green Certified from the American Tree Farm System. Our grass-based dairy has 125 purebred, registered Brown Swiss cows. Their milk is transformed into our award-winning farmhouse cheddar cheese here on the property." (quoted from website)

Open year round. Call for hours.
---
Taylor Farm
Jonathan Wright
825 Route 11
Londonderry, VT
Phone: 802-824-5690
www.taylorfarmvermont.com

Cheeses: Raw Milk, Artisanal Farmstead Gouda

Gouda - Handmade Farmstead Gouda available in traditional form, as well as flavored varieties such as: Maple-smoked, Garlic, Chipotle and nettle-infused.

Taylor is a 180 yr. old working dairy farm in the Green Mountains of southern Vermont, and it's the only producer of Gouda cheese in Vermont. The farm is dedicated to sustainable agriculture. Their 50 Jersey and Holstein cows are not treated with growth hormones. In addition to the dairy and cheese making operation, lodging is available, along with the farmstand, sleigh rides and educational activities.

Cheesemaking workshops available. Tours available. Farm shop onsite.
---
Thistle Hill Farm
John and Janine Putnam, Cheesemakers
North Pomfret, VT
www.thistlehillfarm.com

Cheeses: Aged, Organic, Farmstead Vermont Alpine Cheese

Tarentaise - (Raw Cow's Milk) - Handmade by the Putnams from the certified organic raw milk of their Jersey cows.Following in the French tradition from the Savoie region of the French Alps, the cheese is made in a copper vat and the Putnams also make their own traditional rennet, using whey from the previous batch of cheesemaking. Similar to a baker using sourdough starter mixture, this extra step they take lends a complexity of flavor to their cheese. Tarentaise is somewhat similar to the French Beaufort and Abondance. Aged 5 mos. and turned and scrubbed during aging to produce a warm butterscotch color on the natural rind.

Multiple Award Winner, featured by Martha Stewart and acclaimed by Giles Schnierle, owner of the great American Cheese Collection.
---
3-Corner Field Farm
County Route 64
Shushan, New York 12873
Phone: 518-854-9695
www.dairysheepfarm.com

Cheeses: Handmade Sheep's Milk Cheese

Brébis Blanche - (Fresh Sheep's Milk) - Tangy, creamy. Award Winner. Flavored varieties too - (lavender and fresh herbs)
Sheep's Milk Ricotta - Fresh and low in fat.
Shushan Snow - Aged, mold-ripened from pasteurized Sheep's milk. Paste becomes gooey as it ages.
Battenkill Brébis - (Raw Sheep's milk) - American Cheese Society Winner! A tomme style aged cheese; develops more complex flavor as it ages. For nibbling or grating.
Frère Fumant - (Raw Sheep's milk) - in the style of Idiazabal from the Basque region of Spain. Smoky overtones because the monks at nearby New Skete Monastery smoke it for the cheesemakers.

"We have carefully designed our entire farm so that we can ensure the well-being of our flock as well as the environment on which we all depend. That's what sustainable farming is all about: making choices to produce wholesome, healthy products that people can enjoy without sacrificing the welfare of animals or the health of the environment. Most modern farming practices focus only on reducing the costs of production and ignore the costs to the livestock, soil, air, water, and human health associated with these practices." (quoted from website)
---
Three Ring Farm
(River's Edge Chèvre)
The Little Goat Dairy By The River
6315 Logsden Road
Logsden, Oregon 97357
Phone: 541-444-1362

Cheeses: Fresh and Aged Artisanal, Farmstead Goat Cheeses

Rivers Edge Chèvre - "Bloomy-rind, surface-ripened like those produced in the French countryside. When young, the cheese is smooth and dense; as it ages, it becomes creamy, and at peak ripeness the interior will have the consistency of heavy cream, and be full-flavored, but with no ammonia aroma." (quoted from website) When properly ripe, or à point, cut off the top of the rind and scoop out the creamy paste. They sell many different sizes and shapes of their bloomy-rind cheese.
Astraea - Washed rind, rubbed with olive oil, cinnamon, dried chipotle and white pepper, aged 4 mos.
Jupiter's Moon - Washed-rind bathed with white wine and tied with wild nut grass. Complex.
Saint Olga - Raw milk, aged 2 mos. washed in local beer (Oatmeal Cream Stout) - distinctive flavor and aroma.
Illahee Tomme - A Tomme, ripened 6+ mos., rind is rubbed with truffle oil. A truly savory cheese.

Three Ring Farm is a small family farm, with 60 goats and a small herd of sheep. Dedicated to sustainable farming and to creating top quality artisanal cheeses. Internships are available for those wishing to learn the ancient art of cheesemaking.
---
Three Sisters Farmstead Cheese
Marisa Simoes, Cheesemaker
24163 Road 188
Lindsay, CA 93247
Phone: 559-562-2132

Cheeses: Artisanal, Raw Cow's Milk

Serena - (Raw Jersey Cow Milk) - Aged 12-18 mos., smooth texture with nutty flavor. Award Winner! Great alone, in cooking, paired with fruit, olives.
Serenita - (Raw Milk) - Natural rind, young and creamy, ripened 2-5 mos., similar to the French Beaufort with a sweet and savory flavor, subtle herbal tones.

Marisa Simoes is the eldest of 3 sisters and the only one who decided to follow in her father's footsteps, when she made her first cheese at 19. She subsequently founded Three Sisters Farmstead Cheese, down the road from her father, Rob Hilarides, who runs the Hilarides Dairy.
---
Tumalo Farms
Flavio DeCastilhos, Cheesemaker
64515 Mock Road
Bend, Oregon 97701
Phone: 541-350-3718
www.tumalofarms.com

Cheeses: 10 Farmstead Goat Cheeses and 2 Mixed-Milk Cheeses (Goat/Cow)

Classico Reserve - (Pasteurized goat's milk) - Signature cheese, cave-aged 12+ mos., Nutty, buttery flavor. Multiple Award Winner!
Pondhopper - (Pasteurized goat's milk) - Semi-hard, spiced with microbrew hops, tangy with flavor ranging from mild to sharp.
Antigo - (Pasteurized goat's milk) - cave aged 3-6 mos., a cooked, pressed naturally white paste cheese. Based on an ancient Leyden-style cheese recipe. Flavored with cumin seeds.

Founded in 2004, Tumalo Farms' 12 artisan cheeses have already won 21 awards in just 7 years. This is the story of a Silicon Valley entrepreneur turned artisanal cheesemaker! Flavio describes his cheeses as versions of classic Dutch and Italian cheeses. He raises Saanen and Alpine goats which thrive in the alpine-like climate of Central Oregon, with views of the Cascade Mountains. This Central Oregon Terroir is a key factor in the renown his cheeses have achieved.
---
Twig Farm
Michael Lee and Emily Sunderman
2575 South Bingham Street
West Cornwall, VT 05778
Phone: (802) 462-3363
www.twigfarm.com

Cheeses: Aged Raw Milk Goat Cheeses

Fuzzy Wheel - A mixed milk (goat and cow), natural rind, with a bold flavor.
Goat Tomme - (Raw goat milk) - Natural rind, semi-hard, aged 80 days.
Square Cheese - (Raw goat milk) - natural rind, semi-soft, aged 80 days. A true farmstead cheese and Award Winner.
Washed Rind Wheel - (Raw goat milk) - Sometimes made with some raw cow milk. Aged 80 days. Rinds washed in whey brine. Full flavor, semi-soft cheese.

Since 2005, Michael Lee (former bike messenger turned cheesemonger turned cheesemaker) has been handmaking his goat cheeses and aging them in their cheese cellar, using traditional techniques for farmstead cheese production. He cares for a small herd of 25 happy goats - Alpine, Saanen and 1 Nubian dwarf.
---
Uplands Cheese Co.
Andy Hatch, Cheesemaker
5023 State Road 23 North
Dodgeville, WI 53533
Phone: 888-935-5558
www.uplandscheese.com

Cheeses: Raw Cow's Milk Artisanal, Farmstead Alpine Cheeses

Pleasant Ridge Reserve - Top Prize Winner 2011 American Cheese Society Competition for the third time in past 10 years! Similar in style to a French Alpine Beaufort and a Swiss Gruyère. Only made May through October when cows graze on fresh pasture. Washed several times each week in brine solution while it ages. Each batch will differ and a few batches will be "extra aged".
Rush Creek Reserve - Made only in autumn. Similar to a French Vacherin Mont d'Or. Bound in spruce bark, sweet woodsy flavor, with soft custard-like paste.

Uplands Cheese cares for a "closed herd" of 9 different types of crossbred cows. Thus the milk used in their cheese contains a very diverse range of flavors, fats, proteins, vitamins and minerals, leading to a more complex array of flavors in their cheeses.
---
Vermont Butter and Cheese Co.
Allison Hooper and Bob Reese
PO Box 95
40 Pitman Road Websterville, VT 05678
Phone: 800-884-6287
www.vermontcreamery.com

Cheeses: Handcrafted Artisanal Goat Cheeses

Fresh Goat Cheese - Mild, smooth flavor. Plain chèvre logs and flavored varieties.
Fresh Crottin - Young goat cheese with soft texture, fresh milk flavor.
Bijou - Aged goat crottin with wrinkled rind and nutty taste.
Bonne Bouche - Ash-ripened goat cheese with lemony flavor. Very creamy.
Coupole - Aged goat cheese, mild flavor, paste is creamy and rind is thick and wrinkly.
Crème Fraiche - (Cow) - One of their first products from 1988 when no one else was making it in America. Steve Jenkins (award winning cheesemonger and author) described Crème Fraiche this way - "Crème fraiche is to sour cream what foie gras is to spam."

You cannot say enough good things about Allison Hooper and Bob Reese - pioneers in the artisan cheese industry. Allison was among the very first to make goat cheese in the U.S. and introduce it to a sceptical market. Of course, over the past 25 years goat cheese has assumed a prominent role in American cheese markets and is now a huge seller. Vermont Butter and Cheese won 10 awards at the 2011 American Cheese Society Competition! Vermont Butter and Cheese is a creamery - i.e. they make cheese, but purchase their goat's milk, and cow's milk from local family farms. So there are no animals onsite.
Visitors can watch them make cheese Monday through Friday 9-4. Call ahead for best viewing times.
---
Westfield Farm
Bob and Debby Stetson
28 Worcester Road
Hubbardston, MA 01452
Phone: 978-928-5110
www.chevre.com

Cheeses: Handcrafted, Farmstead Goat Cheeses since 1971

Fresh Goat Cheeses - Many flavored varieties.
Classic Blue Log - Ripened goat cheese. Their signature cheese! One of very few external BLUE chèvres made in the world. Roquefort rind is distinctive blue color that develops on surface and slowly ripens toward the center.
Hubbardston Blue - A surface-ripened Blue goat cheese, aged about 30 days. Complex flavor - truffly and mushroomy.
Hubbardston Blue Cow - (Cow's milk) - "This is one cheese even the most committed goat cheese lover is likely to have a cow over!" (quoted from website)

Located on 20 acres in central Massachusetts, Westfield Farm produces about 1500 lbs. of cheese each week. Visitors welcome and cheeses are sold on site.
---
Williamette Valley Cheese Co.
Rod Volbeda
8105 Wallace Road NW
Salem, OR 97304
Phone: 503-399-9806
www.wvcheeseco.com

Cheeses: Farmstead, Organic Jersey Cow's Milk Cheeses

Cheddars and Fontinas include aged, raw milk varieties and smoked varieties.
Goudas include Farmstead Gouda, Aged Gouda, Boerenkaas, Flavored Goudas.
Havartis include aged and flavored varieties.

Since 1962, they have been taking the "old-fashioned approach" at Williamette, with the focus on quality, not quantity - and strict attention to pampering their Jersey cows.

Tasting Room onsite, Tues-Sat. Sales onsite.
---
Winchester Cheese Co.
Valerie and David Thomas
32605 Holland Road
Winchester, California 92596
Phone: 951-926-4239
www.winchestercheese.com

Cheeses: Farmstead Gouda Cheese

Gouda - aka "Goudse Kaas" - Raw Jersey cow's milk, made in the traditional Dutch way. Every variety of Gouda available: Mild, Medium Aged, Sharp, Super Aged, Jalapeno, Cumin, Garden Herb Gouda and Smoked Gouda.

The farm is owned by Jules Wesselink who was born in the Netherlands, but moved to California, where he has operated his own dairies for a very long time. His daughter and son-in-law are the Cheesemakers. And 500 Holstein cows provide the milk!
---
Woodcock Farm
Mark and Gari Fischer
P.O. Box 21
Weston, VT 05161
Phone: 802-824-6135

Cheeses: Handcrafted Organic Sheep's Milk Cheeses

Weston Wheel - (Sheep) - Natural rind, aged 4-6 mos. sweet flavor with toffee undertones.
Summer Snow - (Sheep) - Bloomy rind, soft-ripened, creamy in the camembert style, with hints of butter and mushrooms. Available during summer months.
West River Feta - (Sheep) - Tangy, smooth textured in the Bulgarian style. Also available marinated in olive oil and herbs.

Sheep's milk cheeses only began to appear in the American market over the past 25 years, but have been popular in Europe for centuries. (For example, Roquefort, Manchego and Pecorino Romano are all sheep's milk cheeses). Mark and Gari Fischer tend a flock of East Friesian sheep, which graze on organic pasturage. The cheese is handcrafted using old artisanal techniques.
---
Go to Pairing American Cheeses with Wine
---
Home > American Cheeses > American Artisan Cheesemakers S -Z

---

Looking for something specific on GourmetCheeseDetective.com?
Enter your request below:

---
Follow The Gourmet Cheese Detective on Twitter: @The_Cheese_Tec
---