What Do You Want to Know
About Gourmet Cheese?

For many of us, gourmet cheese is a passion, a mystery, a treasure meant to be shared with family and friends. When paired with the perfect wine, beer or ale, it could even be described as a gift from the gods!
There is so much to explore in the world of gourmet cheese. With the help of the Gourmet Cheese Detective (G.C.D.) you'll do just that.
Browse to discover the basics of modern artisan cheeses. Then go out and explore with confidence. Sample, taste, discover and enjoy the world's most wonderful cheeses!
Investigate the World of Gourmet Cheese

From American artisanal cheeses to the finest European cheeses which are still being made in the traditional way, using recipes often dating back a 1000 years or more, there is a cheese for every taste, and for every occasion.
In fact, hosting a cheese tasting party or creating an elegant cheese course to complete your next dinner party are just some of the ways to enjoy cheese.
A great example would be English Farmhouse Cheddars.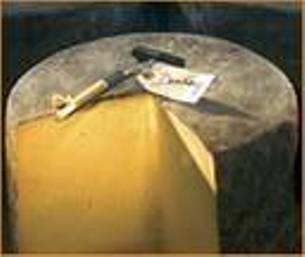 English Farmhouse Cheddar

These days many fine cheeses are available in most supermarkets. And that is partly because American cheesemaking has grown over the past 30 years into a booming artisan industry.

But if you want to go beyond the everyday choices, The Gourmet Cheese Detective can recommend some outstanding sources online to order specialty cheeses to try at home, to pair with wines, champagnes, ales or beers; to use in recipes or to send as gifts.
Ideas for Cheese Platters and easy examples showing you how to create the Ultimate Cheese Course are also here.

French Cheese Platter
Explore the World's Most Popular Cheeses
Or discover the Best Cheese in the World!
---
"Wine and cheese are ageless companions,
like aspirin and aches, or June and moon,
or good people and noble ventures..."
M.F.K. Fisher
---

Looking for something specific on GourmetCheeseDetective.com?
Enter your request below:

---
Follow The Gourmet Cheese Detective on Twitter: @The_Cheese_Tec
---