Italian Cheeses
Go Beyond the Soft Mozzarellas
and the Crumbly Parmigiano-Reggianos
to Experience Other Regional Specialties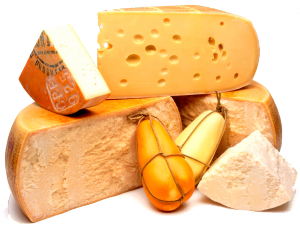 photo courtesy  Formaggi Brunelli

The map of Italy below shows the various regions. Our selection of the top Italian cheeses focuses on Lombardy (Lombardia), Piedmont (Piemonte), Valle D'Aosta, Apulia (Puglia), Emilia-Romagna, Campania, Sardinia (Sardegna), Sicily (Sicilia) and Tuscany (Toscana) - all of which produce outstanding regional, handcrafted cheeses.
Italy is really a vast group of localities stitched together over the centuries into its present national form. After all, it wasn't until the late 19th century that Italy was unified as a country from its earlier medieval city-states. As a result, Italians have always retained a very strong sense of local and regional identity. Geographic and cultural distinctions tend to keep Italians loyal to family, town, region ... with the nation a distant last. This is very unlike France where the people have a very strong sense of national pride. So when it comes to the cheeses of Italy, here again there is fierce loyalty, region by region, to traditional regional cuisines and regional specialty cheeses. Go into a small cheese shop in a small town in Lombardy for example, and you will find all the cheeses made in Lombardy, but it is unlikely you will find a cheese from Tuscany or Campania.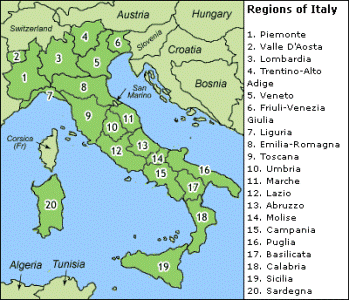 Just as London has Neal's Yard Dairy (a MUST to visit for British cheeses), so in Italy there is the equivalent called Peck's La Casa del Formaggio in Milan.
Now owned by the Stoppani family, Peck has 6 stores in Milan featuring all different specialties, but its main cheese shop is on Via Speronari. It is an absolute paradise for cheese lovers! Featuring as many as 600 cheeses (not all different cheeses, but rather a range of cheese varieties, produced by many different cheesemakers), this store does a huge volume of business. All the names, all the shapes, all the sizes, all the varieties are there for you to sample.
---
Start Your Gourmet Cheese Investigation Today
...

Includes:

Four Cheese Assortment:


Chatelain Brie

Camembert

Comte President


Societe Roquefort



plus Dalmatia Fig spread

Click on the image above to order a sampler. Enjoy some fine Gourmet Cheeses today! -- G.C.D.

---

Italian Cheese Vocabulary

When shopping for Italian cheese, whether here in the U.S. or in Italy, it helps to know a few Italian words which will usually appear on the labels of authentic, handcrafted and name-protected (D.O.P. - Denominazione di Origine Protetta).
First, the words for the type of milk the cheese is made from -

                         Vacca - Cow
                         Pecora - Sheep
                         Capra - Goat
                         Bufala - Buffalo
                         Latte Mista - Mixed Milk Sources

Second, an Italian cheese may be aged or ripened for different time periods. In fact, a young Ragusano will be so different from a more aged Ragusano as to almost make them two different cheeses! So you will want to know what age of cheese you are buying. Here is your brief lesson -

                        Fresco - Fresh
                        Tenero - Tender
                        Dolce - Sweet
                        Duro - Hard
                        Stagionato - Seasoned, Aged, Mature
                        Nuovo - 1 year of aging
                        Vecchio - Old (2 years of aging)
                        Stravecchio - Extra Old (3 years of aging)
Okay - Here we go. My list of 14 top Italian Cheeses you simply must try!
Bra (Tenero and Duro)
Canestrato Pugliese
Fontina Val D'Aosta
Gorgonzola
Grana Padano
Mozzarella di Bufala Campana
Parmigiano Reggiano (Parmesan)
Pecorino Sardo
Pecorino Toscano
Piave
Ragusano
Ricotta Salata
Robiolo di Roccaverano
Taleggio

See the links below to learn more about these cheeses!
You can also find some helpful suggestions about Pairing Italian Cheeses with Wine by clicking on that link below.
When you travel to Italy, be sure to treat yourself by trying the local cheese specialities, wherever you may be in the country. You simply cannot go wrong and you will be honoring the local population, local cheesemakers and local restaurateurs. Ask any hundred people to list their favorite ten or twenty cheeses from Italy and the lists will all be different.
Try these delicious recipes using Italian Cheeses
Asparagus with Sausage and Parmesan Fondue Recipe
Culatello Risotto in a Parmesan Basket Recipe
Gorgonzola Focaccia Sandwich Recipe
Gorgonzola Lasagne Recipe
Gorgonzola Risotto with Scallops Recipe
Parmesan and Asparagus Tart Recipe
Ratatouille with Squacquerone Cheese Recipe
Sformato with Fossa Cheese Fondue Recipe
Squacquerone Quiche with Pan-fried Asparagus and Guanciale Recipe
Turkey Stuffed with Gorgonzola Recipe
---
Go to Italian Cheeses A - M

Go to Italian Cheeses N - Z

Go to Parmigiano-Reggiano Cheese

Go to Pairing Italian Cheeses with Wine


---
HOME
› Italian Cheese
---

Looking for something specific on GourmetCheeseDetective.com?
Enter your request below:

---
Follow The Gourmet Cheese Detective on Twitter: @The_Cheese_Tec
---