Gorgonzola Lasagne Recipe

Gorgonzola PDO Lasagne
with West Country Beef PGI
This Gorgonzola lasagne recipe is an Italian classic and perfect for autumnal evenings. The recipe combines delicious Gorgonzola cheese, a product of Protected Designation of Origin (PDO) with West Country Beef, a product of Protected Geographical Indication (PGI). To make the lasagne, simply repeat a layering process with pasta sheets, spinach, beef filling and creamy Gorgonzola sauce. Sprinkle over crumbled Gorgonzola and bake in the oven until bubbling. Top with basil leaves and serve. Buon appetito!

Gorgonzola is a completely natural, high quality cheese with an unmistakable aroma and taste and a history which allegedly dates back to the eighth century. There are currently 30 dairies and over 3,000 farms making Gorgonzola cheese!

By law and tradition, Gorgonzola cheese can only be produced in the following provinces: Novara, Vercelli, Cuneo, Biella, Verbano Cusio Ossola, and the area of Casale Monferrato within the Piedmont region, and Bergamo, Brescia, Como, Cremona, Lecco, Lodi, Milano, Monza, Pavia, and Varese within the Lombardy region.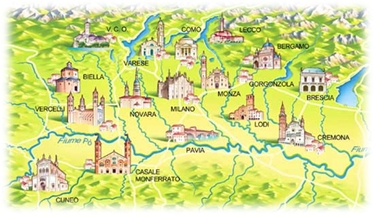 Only high quality cows' milk produced in these provinces may be used to make Gorgonzola and to grant the cheese its PDO certification. PDOs are defined and protected by European Union law in order to defend the reputation of regional foods.

Gorgonzola has excellent nutritional and antioxidant properties; it is extremely rich in vitamins and minerals such as calcium, iron and phosphorus. It is also a highly versatile product which can be used in a wide range of recipes including appetisers, main courses, and even desserts.

Gorgonzola Lasagne Recipe: Ingredients
Serves 4-6

4 tbsp olive oil
1 onion, chopped
2 cloves garlic, crushed
250g wild mushrooms, chopped
1 carrot, grated
500g plum tomatoes, chopped
500g minced West Country Beef
150ml red wine
400g pasata
2 tbsp Worcestershire sauce
2 tbsp tomato purée
1 tsp mixed herbs
100g spinach leaves
6 sheets fresh lasagne
salt and cracked black pepper
400g Gorgonzola piccante, crumbled
basil leaves, to serve

Gorgonzola sauce:
75g butter
50g flour
900ml milk
250g Gorgonzola dolce

Gorgonzola Lasagne Recipe: Instructions
Preheat the oven to 200˚C
Heat one tablespoon oil in a saucepan and sweat the onion and garlic until translucent, then add the mushrooms, carrot and tomatoes
In a separate pan, fry the beef in a tablespoon of oil and a little salt and pepper until browned, add the wine and cook for one minute. Stir into the vegetables
Add the pasata, Worcestershire sauce, tomato purée and mixed herbs and simmer for 30 minutes so the flavour intensifies and the sauce thickens. Season to taste
Meanwhile make the Gorgonzola sauce. Melt the butter in a saucepan and stir in the flour using a wooden spoon. Slowly whisk in the milk and watch the sauce thicken
Stir in the Gorgonzola until melted and season with black pepper
Lay half the spinach over the base of an ovenproof dish and top with half the beef filling. Top with a layer of pasta sheets, but do not overlap them. Spread just under half the Gorgonzola sauce over the lasagne sheets and top with the rest of the spinach leaves. Make a final layer of beef filling, then lasagne and top with the remaining Gorgonzola sauce
Scatter crumbled Gorgonzola piccante over the top of the dish and bake in the oven for 40-50 minutes until bubbling. Top with basil and serve.
COOK'S TIP
You can always prepare ahead and make the Bolognese sauce a day in advance

MORE INFORMATION ON GORGONZOLA
For more information about Gorgonzola visit http://www.gorgonzola.com

CREDITS
Consorzio per la Tutela del Formaggio Gorgonzola
Photography and Reportage: Steve Lee
Recipe and Food Styling: Jocelyn Barker, The Dialogue Agency
---
Go from Gorgonzola Lasagne Recipe to
Gourmet Cheese Detective Home Page
---

Looking for something specific on GourmetCheeseDetective.com?
Enter your request below:

---
Follow The Gourmet Cheese Detective on Twitter: @The_Cheese_Tec
---