How to Create
The Ultimate Cheese Course
And Other Ideas for Elegant Entertaining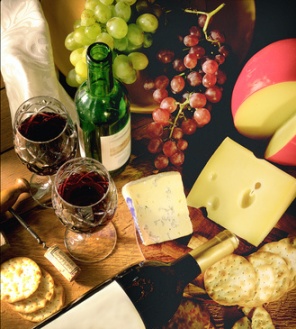 Creating the Ultimate Cheese Course, and other elegant party menu ideas combining gourmet cheeses and wines is a lot of fun with endless possibilities for creativity and variations on all sorts of themes.
As with any party planning, the more attention you pay to planning and details ahead of time will be well worth it - and will allow you as hostess, to relax and enjoy yourself on the day of the party. So first there are a few questions you'll need to answer:
How many guests?
What is the occasion?
Will this be a formal sit-down dinner in the French style, where you plan to serve a Cheese Course after the main entrée, but before (or instead of) the dessert course?
Will this be a small gathering of friends/cheese lovers for your special Ultimate Cheese Course Party - a connoisseur's delight - with a menu of 5-7 gourmet cheeses paired with appropriate wines?
Will this be a small group of guests for dinner, where you plan to serve several cheeses and accompaniments as appetizers before dinner?
Do you plan to set up a special cheese board or platter or table display ... or, do you plan to prepare and assemble individual plates of cheese selections for each guest?
Some General Guidelines

Estimating portion sizes:

For the cheese course at dinner, following the entrée, allow 1.5 oz. for each of 3 cheeses, per person.
If cheeses are the main appetizer before dinner, allow 2-3 oz per cheese per person and figure on serving 3 cheeses.
For your Ultimate Cheese Party, plan on 7-9 different cheeses with 1.5 - 2 oz. per cheese, per person. Plan on 4 different wines, chosen to pair well with the cheeses.
Other Cheese Course Tips:

When pre-plating the cheese on individual plates, or using a Cheese Platter, always serve an odd number of cheeses and where possible, different cheese shapes such as wedges, rounds and pyramids. (As with flower arranging - an odd number of cheeses simply has more visual appeal.)
Always provide a separate knife for serving each cheese.
Always bring the cheeses to room temperature before serving. Allow 1/2 to 1 hour.
You don't need any fancy equipment or accessories to present your selection of cheeses. A large tray or 2, an attractive cutting board or piece of marble, cheese knives for serving, cloth napkins, small plates, inexpensive wine glasses, serving plates and/or baskets for food accompaniments such as bread, crackers, fruits, nuts, etc.. Depending on the type of occasion and number of guests, there are a number of easy presentation ideas I'll share with you.
See my page on The Perfect Christmas Cheeseboard
Start Your Gourmet Cheese Investigation Today
...

Includes:

Four Cheese Assortment:


Chatelain Brie

Camembert

Comte President


Societe Roquefort



plus Dalmatia Fig spread

Click on the image above to order a sampler. Enjoy some fine Gourmet Cheeses today! -- G.C.D.


Principles of Cheese Tasting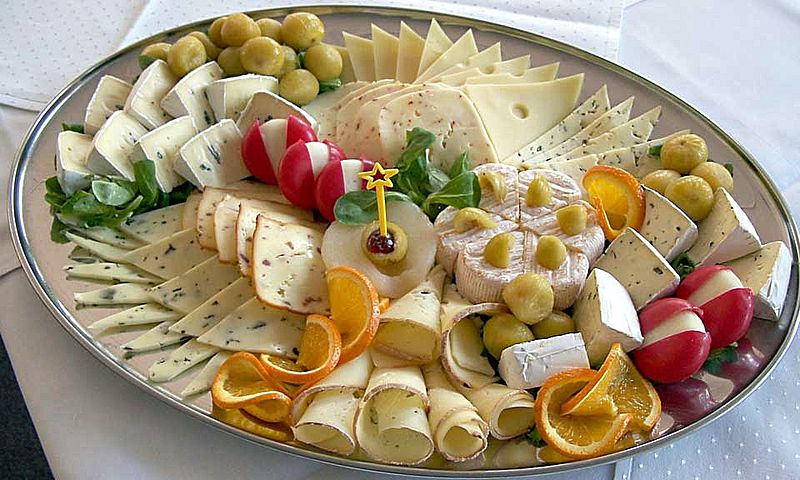 There are different ways to organize a Cheese Tasting.
And because there are different approaches, it's best for you to select one method for your party, and ignore the others for another time, another party.
You'll be arranging your cheese selections on a table, or individually on plates for each person. How should you do it?

Well, first you want to select 3-5 or more cheeses which exhibit a natural progression - of milk type, variety, texture, or flavor. Here are some examples.

Move from simple and rustic to complex and full of depth
From young cheeses to more aged cheeses
From lighter cheeses to heavier cheeses
From mild-flavored cheeses to stronger-flavored cheeses
A progression can also be thought of as starting with a young goat's milk cheese, followed by a sheep's milk cheese and ending with a cow's milk cheese.
Or, as progressing from Fresh Cheeses to Natural Rind Cheeses to Bloomy Rind Cheeses to Washed Rind Cheeses and ending with Blue Cheeses.
---
---
Too Sweet!
Cheese Label Cheese Plates!


Assorted Cheese Plates, in a set of four and gift boxed. A caseophile's delight! How can you think to serve cheese on anything else?  

I am sooo going to get these and use them every possible chance I get. And maybe a set to just hang on the wall... Click the image to get yours! - G.C.D.




---
---
If you decide you want to feature cheeses from one country at your party - such as France, Italy or Britain - you would select 3-5-9 cheeses, thinking about the progressions I just mentioned. For more ideas about different international cheeses you might feature, you'll get lots of ideas and help when you visit Artisanal Cheese (1 of my 2 very favorite cheese shops!) online.

If your guests are real cheese connoisseurs, you might want to feature a comparison tasting of 3-5 goat cheeses, ranging from fresh young chèvres on up to superb aged goat cheeses. Or several different Cheddars from Britain and the U.S.. Or even 3-5 Blue cheeses from different countries for comparison. There are a lot of good choices for themes and cheese selections. So don't get overwhelmed by details and choices. Just decide on one menu idea for your Cheese Course according to your own preferences and go from there.
---
Go to French Cheese Course Menu Suggestions

Go to Wine and Cheese Party Menus from Around the World


---
HOME
› Ultimate Cheese Course
---

Looking for something specific on GourmetCheeseDetective.com?
Enter your request below:

---
Follow The Gourmet Cheese Detective on Twitter: @The_Cheese_Tec
---