Hosting a Wine and Cheese Party
is Fun and Easy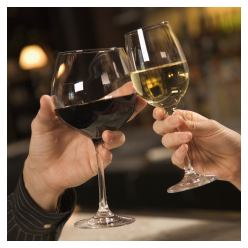 Creating Wine and Cheese Party Menus with suggestions for different cheese and wine pairing combinations in a casual party atmosphere sure to please your guests. Here are some menus from around the world, combining the perfect wine with a threesome of cheeses for each country.

Viva l'Italia!


The Cheeses
Mozzarella di Bufala Campana (Water Buffalo, Fresh and Soft, mild, Pasta Filata Type)
Aged Pecorino Toscano (Sheep, rustic, firm, sharp)
Taleggio (Cow, Washed Rind, mild flavor, strong aroma)

The Wine
Good quality Chianti such as Chianti Classico. (Look for black rooster on the bottles.)
The Accompaniments
Tuscan style boule (thickly sliced artisan, peasant-style bread)
Selection of olives
Roasted red peppers
Slices of Italian sopressata, Prosciutto di Parma
Vive la France!


The Cheeses
Crottin de Chavignol (Goat)
Ossau-Iraty (Sheep, Semi Hard)
Fourme d'Ambert (Cow, Blue)

The Wine
Sancerre white wine from Loire Valley, such as Michel Thomas et Fils 2009
The Accompaniments
Peasant-bread, thickly sliced
Unsalted butter
Whole little radishes, cornichon (pickles)
Country paté

Viva la España!


The Cheeses
La Serena (Sheep, semi soft, torta style cheese)
Mahón (Cow, firm and crumbly)
Cabrales (Cow, Blue, strong flavor)

The Wine
Red Rioja from Spain such as La Rioja Alta, Marques de Murrieta

The Accompaniments
Peasant-style bread or walnut-raisin bread
Selection of olives
Thin sliced Serrano ham
Marcona almonds
Figs and dates
Long Live the USA!

The Cheeses
Cypress Grove Humboldt Fog Cheese (Bloomy Rind, Goat Cheese)
Old Chatham Sheepherding Co.'s Shepherd's Wheel Cheese (Sheep, Aged)
Jasper Hill Farm's Winnimere Cheese (Cow, Aged Washed Rind with flavor wallop)

The Wine
Riesling, such as Domaine Zind Humbrecht Riesling 2006 (Alsace, France)
or Gewürztraminer, such as 1998 Navarro Vineyards Anderson Valley Mendocino Gewürztraminer
The Accompaniments
Sourdough bread, thickly sliced
Melon wedges
Dates, thin slices of pears and apples
Paper thin slices of prosciutto (American or Italian)
Selection of nuts such as walnuts, hazlenuts or pecans
Selection of chutneys
---
---





Almost Cliff-notes for Wine & Cheese Pairing


Look like an expert in no time flat, just keep this handy little guide out of sight and no one will ever know! A practical twist on wine and cheese pairings, this easy-to-navigate swatchbook fans out to reveal fifty of the world's finest cheeses and the best wines to pair them with. Click on the image to order yours here!    - G.C.D.

---
---

Rule Britannia!


The Cheeses
Ticklemore (Goat, semi soft)
Montgomery's Farmhouse Cheddar (Cow, Aged, Firm and Sharp)
Beenleigh Blue (Sheep, Blue)

The Wine
California Cabernet Sauvignon, such as Louis Martini Napa Valley Cabernet Sauvignon 2007
The Accompaniments
Rustic, whole grain bread, thickly sliced
Unsalted butter
Thin slices ham
Selection of Chutneys, Fruit Pastes (Quince, fig)
Thin slices of pears, apples
Pickles
There can be so many different Wine and Cheese Party menus you can create, whether by country, type of milk the cheese is made from (cow, sheep, goat), cheese type (Blues, Washed-Rind, Bloomy Rind), or perhaps a comparison of a specific cheese variety from different makers or countries (a comparison of Cheddars for example, or a comparison of pecorinos). See what you can come up with - and share your ideas with us.
---
Gourmet Cheese Detective's Bookshelf
"Do not let the peasant know how good cheese is with pears," goes the old saying.

Intrigued by these words and their portent, Massimo Montanari unravels their origin and utility in society.




An Exploration of the Origins of Entertaining With Cheese



Cheese, Pears & History in a Proverb

---
Perusing archival cookbooks, agricultural and dietary treatises, literary works, and anthologies of beloved sayings, he finds in the nobility's demanding palates and delicate stomachs a compelling recipe for social conduct.
At first, cheese and its visceral, earthy pleasures were treated as the food of Polyphemus, the uncivilized man-beast. The pear, on the other hand, became the symbol of ephemeral, luxuriant pleasure-an indulgence of the social elite. Joined together, cheese and pears adopted an exclusive savoir faire, especially as the "natural phenomenon" of taste evolved into a cultural attitude. Montanari's delectable history straddles written and oral traditions, economic and social relations, and thrills in the power of mental representation. His ultimate discovery shows that the enduring proverb, so wrapped up in history, operates not only as a repository of shared wisdom but also as a rich locus of social conflict.
Click the image or the link below to order your copy today!

Cheese, Pears, and History in a Proverb (Arts and Traditions of the Table: Perspectives on Culinary History)
---
Go to French Cheese Course

Go to Entertaining - Create the Ultimate Cheese Course


---
HOME
› Wine & Cheese Menus
---

Looking for something specific on GourmetCheeseDetective.com?
Enter your request below:

---
Follow The Gourmet Cheese Detective on Twitter: @The_Cheese_Tec
---