Danish Cheeses
Deliciously Decadent, Blushingly Blue or Meltingly Mild
They Can Hold Their Own on Any Cheeseboard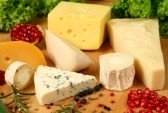 You're likely to find Danish cheeses on the menu in Denmark morning, noon and night. ("A traditional breakfast is buttered bread, Danish skæreost (sliced cheese), a buttery creamy white cheese (often Danish Havarti, Danbo or Danish Tilsit), strawberry jam and a lot of coffee" - credit: Wikipedia) There isn't a great variety of Danish cheeses but hey, Denmark is a small country! Most of the cheese eaten as part of a meal will be fairly mild and bland.
However Denmark does produce some pungent cheeses, triple-crèmes and blue cheeses to enjoy alone with wine, as an appetizer, or with fruit. You won't find the abundance of Farmstead or Farmhouse artisanal cheesemakers in Denmark that you find in France or England. Most of their gourmet cheeses are produced in cheesemaking factories ... and most of their cheese is made from pasteurized milk. True cheese purists always prefer raw milk cheese, but Danish cheese certainly proves the point that you can make a fine gourmet cheese from pasteurized milk. Here are five wonderful selections I have singled out for you to try.

Esrom

Esrom, a semi-soft, washed-rind cheese made from pasteurized cow's milk, is formed into loaves, not the typical cheese wheel or round, weighing about 3 lbs. The rind is thin and yellowish-orange in color, while the interior paste is ivory to yellow in color. It has irregular eyes scattered throughout.
This cheese was re-created in the 1930s from what is believed to be the recipe used by the monks at Esrom Abbey in Denmark back in the 11th and 12th centuries. Esrom used to be called the Danish Port Salut until European Union laws caused a problem vis à vis the Port Salut cheese from France. While it ages over a 10 to 12 week period, the cheese is washed in brine, brushed and turned regularly to promote the spread of the good bacteria. Naturally, Esrom develops a distinctively stinky aroma, but the flavor of the cheese remains comparatively mild and sweet. I would describe the flavor as buttery and a bit spicy when young, and more savory and intense as it ages. The appearance of a slice of Esrom will look porous - almost sponge-like, due to the irregular eyes; its texture is smooth and supple. Esrom is one of two cheeses which bears the respected PGI (protected geographic indicator) designation, as per European Union laws. This means that it can only be produced in Denmark from Danish milk and at approved dairies following specific guidelines in production. The other PGI cheese is Dana Blu.
Dana Blu

Dana Blu is the second Danish cheese carrying the P.G.I. label. This wonderful cheese traces its origin back to Danish cheese pioneer Hanne Nielsen who established a cheese production plant in the 1850s and set about to make the first Danish blue cheese (1874) inspired by the French Roquefort cheese.

About 40 years later, Marius Boel of Denmark created Dana Blu. Over a ten year period he experimented with bread molds and milk homogenization and ended up with a uniquely Danish blue cheese - smooth, creamy, not so crumbly that it could not be cut. His Dana Blu has a beautiful appearance with regular blue-green veining throughout the milk-white paste. The taste is buttery, tangy and salty, but it doesn't have as sharp a flavor as a Roquefort or a Gorgonzola. It is a rindless cheese, ripened for 2-3 months in 9 lb. wheels which are then foil-wrapped. Dana Blue usually wins a Gold Medal at the World Cheese Championships in Wisconsin. This is a very popular cheese - one of the best among Danish cheeses - and one you are sure to enjoy!
Start Your Gourmet Cheese Investigation Today
...

Includes:

Four Cheese Assortment:


Chatelain Brie

Camembert

Comte President


Societe Roquefort



plus Dalmatia Fig spread

Click on the image above to order a sampler. Enjoy some fine Gourmet Cheeses today! -- G.C.D.


Blue Castello

This is one truly decadent, delicious triple-crème, blue-veined cheese! A treat in every respect! It is a washed-rind cheese made from pasteurized cow's milk, and so its surface sports a combination of blue-green and reddish molds which lend both aroma and flavor to the cheese.

When properly ripened, it will have a texture and consistency like a perfectly ripened Brie. You will be able to see the blue veining in distinctive thick lines. The flavor never gets to be too strong, and the buttery rich taste will linger with an aftertaste of mushrooms. With a 75% butterfat content, this is truly a voluptuous cheese to enjoy with the perfect wine.
Caraway Havarti

Havarti was named after Havarti Farm where Danish cheese pioneer Hanne Nielsen first created this very popular cheese. It is similar to Tilsit but milder in both aroma and taste. A washed-rind cheese, Havarti is bathed in brine, brushed and turned over a 2-4 month aging period.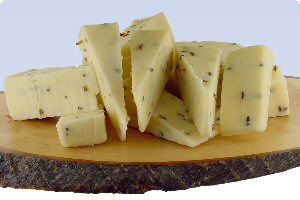 It is produced in wheels, rectangles and squares weighing 7 oz. up to 10+ lbs. Many Havarti cheeses are rindless - others have thin rinds. The paste is ivory to pale yellow with lots of irregular-sized eyes. The higher fat version is very creamy; the other versions are elastic and supple in texture. Havarti can have a fat content ranging from a low-fat 30%, to 40% and on up to the creamy version with a 60% fat content due to the addition of cream. When you combine Havarti with the sharp flavor of caraway seeds you get an unusual combination you are sure to love. There are other Havarti varieties which have been flavored with other seasonings such as dill, jalapeno pepper, chives etc., but I think the Caraway Havarti is the best of all.
Samsoe
Samsoe began life as a Farmhouse cheese, patterned after Swiss Emmentaler. Today, like most other cheeses made in Denmark, Samsoe is produced in a factory from pasteurized cow's milk. It is named after the island located a few miles off the Jutland Peninsula because it was first made there back in the 19th century. (Today Samsoe is known as Denmark's renewable energy island.) The Danish King had brought in a Swiss cheesemaker to help with the diversification of the Danish cheesemaking industry. Samsoe was the result of this new collaboration.

The cheese you see today in the cheese shop is not as hard a cheese as Emmentaler. It is formed into 31 lb. rectangles or wheels and aged for at least 6 weeks, but more usually it will be aged for 3 to 6 months +. The rind is yellow to golden (sometimes it is rindless) and usually covered with yellow paraffin; the paste is ivory to yellow with a sprinkling of eyes. The texture is smooth and elastic and the flavor milder than Emmentaler - nutty, sweet, buttery and mild when young and more robust and pungent as it ages. A great deal of Samsoe is produced - it is virtually the national cheese of Denmark!
---
---
HOME
› Danish Cheese
---

Looking for something specific on GourmetCheeseDetective.com?
Enter your request below:

---
Follow The Gourmet Cheese Detective on Twitter: @The_Cheese_Tec
---