Dutch Cheeses
Explore Holland's Cheese Markets
Discover the Varieties of Fine Dutch Cheeses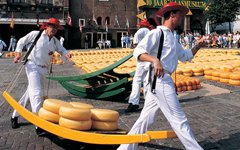 Edam Cheese Market
photo courtsey Peter Heppo  -  peterheppo.blogspot.com
To see all the Dutch cheeses, you really should go to visit the five Dutch cheese markets in the Netherlands. Four of them are are very much like the traditional merchant markets that have operated since medieval days. Every summer tourists can see re-enactments of what a medieval market looked like and how it operated.

But beyond the obvious tourist appeal, the primary function of these markets is still to sell cheese. Alkmaar is the largest of the four markets and it has been operating every Friday on the "Weighing Square" (Waagplein) for 400 years. You can see the cheese porters, wearing straw hats, carrying huge cheeses on stretchers that almost look like Venetian gondolas.
The Gouda Cheese Market features huge wheels of Gouda for sale, as they have been for 300 years. Farmers gather to have their cheeses weighed, tasted and priced.
The Edam Cheese Market has wheels of Edam brought by carriage and boat to be weighed at the Weigh Station, built in 1778.
The market at Hoorn is a reproduction cheese market. The market at Woerden is a commercial cheese market without pageantry or spectacle for tourists. There the cheeses for sale are the authentic Boerenkaasen (Farmhouse cheeses) which are made from raw milk and are considerably higher in taste and quality than the Dutch factory-made cheeses.

Cheese is incredibly important to the Dutch economy. Gouda and Edam are well-known names and there are many wonderful varieties of each. In fact, Gouda deserves its own page on this website. But there are also some other Dutch cheeses worthy of your attention.

Let's look at Edam, Farmhouse Leyden, Parrano, Roomkaas and Geit-in-Sand.
Gouda
Gouda is the quintessential Dutch Cheese. It is so good, it gets its own page.
Click here to go directly to the Gouda Cheese page.
Farmhouse Leyden
Farmhouse Leyden (Boeren-Leidse met Sleutels) is a name-protected (P.D.O.) Dutch Farmhouse cheese made from raw cow's milk. The word sleutels means keys and there is an imprint of crossed keys on the rind, which is the coat of arms of the town of Leyden in the Zuid-Holland province. Only cheesemakers who are members of the Boeren-Leidse Cheesemakers Union are allowed to make this cheese.

Today there are only about 26 such cheesemakers. Leyden (right) is distinguished by the cumin seeds are added during production. It is a washed-rind cheese which is soaked in brine for 5-6 days and aged from 3 months to 2 years. The rind is coated with annatto giving it an orange color and then it is coated with red paraffin wax. This Farmhouse Dutch cheese has a slightly higher fat content and therefore a richer flavor and a creamier texture, than the typical pasteurized Leyden cheese. Aging naturally intensifies the cumin flavor. You will find it to be slightly dry, and tart. Sometimes caraway seeds instead of cumin seeds are mixed into the curds. An unusual cheese you will want to add to your next cheese platter.
Parrano
Parrano is a relatively new Dutch cheese (created in the late 90s), proving the point that not all terrific gourmet cheese has to date back hundreds of years!

The name was a deliberate choice by UnieKaas, the largest Dutch cheesemaker which created Parrano - because it sounds Italian - and yes, the cheese is sort of a cross between a mild Dutch Gouda and an Italian Parmigiano. The cheese is made from pasteurized cow's milk and then is aged for 5 months, developing its nutty Parmesan flavor while retaining the smooth, firm texture of a young Gouda. The rind is hard and golden in color; the texture is semi-firm and the flavor - well, you be the judge. I would describe it as mellow, nutty and buttery. You can count on this cheese to be versatile. You can melt it, grate it, slice it and use it in all sorts of ways. Americans seem to love Parrano because its U.S. sales have grown phenomenally over the past 10 years. This is a Dutch cheese you will want to try!
Start Your Gourmet Cheese Investigation Today
...

Includes:

Four Cheese Assortment:


Chatelain Brie

Camembert

Comte President


Societe Roquefort



plus Dalmatia Fig spread

Click on the image above to order a sampler. Enjoy some fine Gourmet Cheeses today! -- G.C.D.


Roomkaas
Nearly everyone likes Gouda and nearly everyone likes rich, double-crème cheeses. So Roomkaas (which means cream cheese in Dutch) is a winner - it is a Dutch Gouda-style, double-crème cheese made from cow's milk.
Produced in 9 lb. wheels with a yellow, paraffin wax coating, Roomkaas is one of the creamiest of all Dutch cheeses. When at room temperature you can virtually spread it on bread or crackers. When cold, you can slice it. And it does melt well, so it is great for cheese sauces. Regular Gouda cheese has a butterfat content of 48%. When you add more cream to Gouda, raising the butterfat content to a scrumptious 60% - you end up with Roomkaas. The creamy, buttery taste and the semi-soft texture will make it a favorite of yours.
Geit-in-Stad
If you have tasted goat cheese and didn't like it, then I recommend you try Geit-in-Stad (which means "goat-in-the-city").
Many people have said that they love it, even though they don't care for other goat cheeses. Geit-in-Stad is a Gouda cheese made with goat's milk. It has the sweetest and creamiest flavor of any goat cheese you might try - guaranteed! It has a smooth texture which will melt in your mouth and there is no tangy, bitter aftertaste. It's just an exceptional Dutch cheese that many people have never heard of. Serve some at your next party.
Edam
Edam is second only to Gouda as the most exported Dutch cheese. The Edam cheese we see in the U.S. is covered in red paraffin; in the Netherlands you will find it covered in yellow paraffin.

Made from partly-skimmed, pasteurized cow's milk, Edam is lower in fat content (40%) than Gouda. Otherwise, the two cheeses are very similar ... even more so today than long, long ago. The flavor is mild (some would say bland), and the texture is very smooth with an elastic quality.

Edam cheese dates back many centuries, and was a major export for the Netherlands. In its early days, Edam was made in special wooden cheese forms. These forms were also used as helmets in times of need and it was due to this dual-purpose cheese form, that the Dutch population came to be known as cheese-heads (a term fondly used today by residents of Wisconsin!) Most cheese experts bemoan the fact that modern-day Edam is mass-produced in large cheese factories from pasteurized milk and has lost the unique flavor and character it had when it was primarily produced on local farmsteads. Edam is typically aged for 6-8 weeks. There are more aged versions (17 weeks up to 10 months), coated in black paraffin. If you can find one of the aged versions in your cheese shop, it would be the best buy for you. Sadly Edam is no longer considered a gourmet cheese, but it is so very well known in the U.S. that I have included it in this list.
---
HOME
› Dutch Cheese
---

Looking for something specific on GourmetCheeseDetective.com?
Enter your request below:

---
Follow The Gourmet Cheese Detective on Twitter: @The_Cheese_Tec
---