Turkey Stuffed with Gorgonzola

Traditional Farmfresh Turkey filled with Gorgonzola, roasted chestnuts and cranberries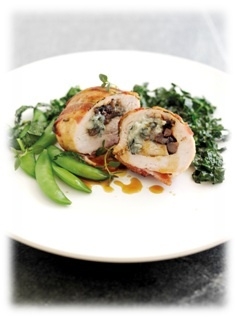 This Traditional Farmfresh Turkey with Gorgonzola recipe puts an Italian twist on the classic Christmas dinner. Filled with chestnuts, cranberries and delicious Gorgonzola cheese, a product of Protected Designation of Origin (PDO), this dish is the perfect addition to your festive celebrations.

To make, simply fry the chestnuts and cranberries. Slice the turkey breasts and flatten. Top with Gorgonzola piccante, chestnut mixture and roll the turkey around the filling. Wrap in streaky bacon and roast in the oven until golden brown.
Traditional Farmfresh Turkey filled with Gorgonzola, Roasted Chestnuts and Cranberries
Ingredients
Serves 4

50g roasted chestnuts, chopped
25g dried cranberries, chopped
2 tsp fresh thyme leaves, chopped
Olive oil
4 x 100g Traditional Farmfresh Turkey breasts
Salt and cracked black pepper
150g Gorgonzola piccante
8 slices smoked streaky bacon
8 sprigs fresh thyme

Turkey Stuffed with Gorgonzola Recipe: Instructions
Preheat the oven to 200°C
Fry the chestnuts, cranberries and chopped thyme in a little oil for two minutes
Slice the turkey breasts almost in half and flatten with a rolling pin to make one long strip. Season with salt and black pepper
Place chunks of Gorgonzola in the middle of the turkey strips and top with some of the chestnut mixture. Roll the turkey up around the filling, lay sprigs of thyme over the top and then wrap in two slices of streaky bacon so that the open ends are sealed. Repeat for each turkey breast
Pat a little oil over the top of each stuffed turkey breast and then roast in the oven for 30-35 minutes until cooked and golden brown

For more information about Gorgonzola visit http://www.gorgonzola.com


CREDITS
Consorzio per la Tutela del Formaggio Gorgonzola
Photography and Reportage: Steve Lee
Recipe and Food Styling: Jocelyn Barker, The Dialogue Agency

---
Go from Turkey Stuffed with Gorgonzola Recipe Page to
Gourmet Cheese Detective Home Page
---

Looking for something specific on GourmetCheeseDetective.com?
Enter your request below:

---
Follow The Gourmet Cheese Detective on Twitter: @The_Cheese_Tec
---