Best Cheese in the World
Manchego DO Gran Reserva is World Champion Cheese
A traditional unpasteurised ewes' milk cheese from a historic Spanish estate has been named World Champion 2012 after wowing judges at the World Cheese Awards in Birmingham.

The Manchego DO Gran Reserva, from Dehesa de los Llanos in the province of Albacete, becomes the first champion from mainland Spain in two decades of the international award scheme, which was topped in 2011 by a French Ossau Iraty and in 2010 by Britain's own Cornish Blue.

Chosen from among more than 2,700 British and international cheeses, the Manchego was described by this year's final judging panel as "a stunning cheese - light, with high notes like a choral song and an aromatic, long finish". In all, 255 judges from around the world took part in the awards, staged alongside the BBC Good Food Show at the NEC.

Of the 2,781 cheeses judged, 50 cheeses were awarded Super Gold medals – the full list of award winners is available from www.finefoodworld.co.uk/wca.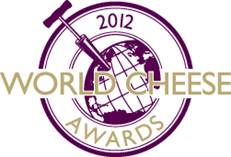 "This Manchego is an exquisite example of an artisan cheese made with incredible skill," commented Bob Farrand, co-organiser of the World Cheese Awards. "It was obvious to the panel of judges that this was a world-class cheese and they were glowing in praise for the cheesemaker."

The World Cheese Awards, run by the UK's Guild of Fine Food, is the largest and most respected competition of its type in the world. This year it brought together 2,781 cheeses from 30 countries under one roof, making this the Big Cheese of international competitions. Many of the winning cheeses will now be available for sampling at the World Cheese Deli at BBC Good Food, which runs until 2 December.

Judges included cheese experts from the USA, Spain, France, Italy, Belgium, Switzerland, Denmark, Germany, Greece, South Africa, Portugal and Russia.

The competition is truly global with only 25% of entries from the UK. Others came from Ireland, New Zealand, the USA, Spain, Croatia, Netherlands, Italy, Norway, France, Belgium, Austria, Sweden, Cyprus, Slovakia, Canada, Australia, Greece, Germany, South Africa, Switzerland, Portugal, Denmark and Russia.

Over the last decade the World Cheese Awards have been held in Dublin, Gran Canaria and London, and most recently at the BBC Good Food Show at the NEC.
---
HOME
› Best Cheese in the World
---

Looking for something specific on GourmetCheeseDetective.com?
Enter your request below:

---
Follow The Gourmet Cheese Detective on Twitter: @The_Cheese_Tec
---