Roquefort Cheese:
Sublime, Sensuous, Sharp and Sexy
No list of favorite French cheeses would be complete without the inclusion of A.O.C. Roquefort Cheese. Roquefort is an ancient cheese which dates back about 2,000 years and it well deserves its reputation as one of France's national treasures (Brie is also included in that national treasure list.). We know that Roquefort dates back at least to 79 C.E. because Pliny the Elder wrote about its rich aroma.
But legend dates the cheese even earlier, with a story about a poor shepherd who saw a beautiful girl in the distant hills of South Central France. Determined to follow her, he left his simple lunch of rye bread and cheese behind in one of the crevasses found throughout the limestone cliffs in the region. Some days later he returned alone, disappointed and starving - only to find that his bread had turned moldy and the mold spores had migrated onto and into his hunk of cheese. His paltry meal didn't look very appetizing, but he ate it anyway and found to his delight, that the cheese was truly delicious. "Merveilleux!" he cried - and rich, buttery, tangy Roquefort Cheese was born.
So how did this phenomenon occur? It turns out that the village of Roquefort-sur-Soulzon, today still a small village of 600 people, is perched on the side of Combalou Rock, which is a promontory overlooking a valley where the herders still watch over their Laucaune sheep herds, right by the limestone cliffs that were created when a seismic shift occurred back in prehistoric times. As a result of that seismic shift, a number of underground caverns and caves were carved out. Today there is a narrow strip of land about a mile and a quarter long and just 300 yds in width, where these famous caves are used to create, age and ripen the sublime Roquefort Cheese we treasure.
Some Roquefort producers still bake rye bread and allow the bread to develop the mold spores naturally in the caves. They then inject the spores into their cheeses. But actually there are hundreds of varieties of Roqueforti Penicillium - and some Roquefort producers grow the mold in a lab and inject the spores into the cheeses.
What makes Roquefort Cheese so special? Well, the mold does - because it determines the texture and the sharp pungency of the fully ripened cheese. And the flavor and texture will vary from one cheesemaker to another. Roquefort is one of the most intensely flavored of all French cheeses. A.O.C. regulations require that Roquefort be produced from the raw milk of Lacaune sheep, either right in the vicinity of Roquefort-sur-Soulzon in southern France, or nearby. Each of these sheep produces only 16 gallons of milk in a season - a mere fraction of what a cow would produce!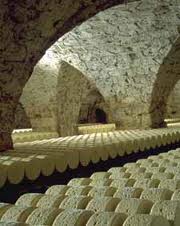 In any case, every Roquefort cheesemaker MUST move his cheese to the natural limestone caves of Mont Combalou in Roquefort-sur-Soulzon for ageing ... a minimum of 4 months up to 9+ months. That system of caverns is the veritable HQ of all things Roquefort. The rights to age Roquefort Cheese in these caves - and ONLY in these caves - was awarded to the village of Roquefort-sur-Soulzon by King Charles VI in 1411.
Oddly enough, about 60% of all A.O.C. Roquefort is made by one group called the Société des Caves and des Producteurs Réunis - yet what they produce is truly not memorable. The memorable Roquefort is made by the other 6 Roquefort cheesemakers. Especially good Roquefort is made by Carles; it is the last to be handmade in every step. If I could have only 4 cheeses to eat, Carles Roquefort would be one of them (the other 3 would be English Farmhouse Cheddar (Montgomery's), a Rolf Beeler aged Swiss Gruyère, and a fresh Mozzarella di Bufala Campana). Vieux Berger, Gabriel Coulet, Combes, Le Vieux Berger and Vernières Frères are the other Roquefort makers. Look for those names in your cheese shop.
Start Your Gourmet Cheese Investigation Today
...

Includes:

Four Cheese Assortment:


Chatelain Brie

Camembert

Comte President


Societe Roquefort



plus Dalmatia Fig spread

Click on the image above to order a sampler. Enjoy some fine Gourmet Cheeses today! -- G.C.D.

Authentic Roquefort Cheese will always be wrapped in foil and it will have an emblem of a red sheep printed on the foil.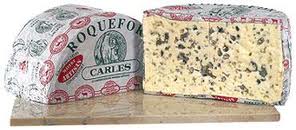 The rind (which is almost non-existent) will be pale ivory colored and it is edible. The texture of the cheese should be crumbly, creamy and moist, with a blue-green interior showing a scattering of tiny eyes. The flavor is salty, somewhat tangy ... intensifying as it ripens. It will be well worth your while to seek out the best Roquefort you can find, and stop by the wine shop to select a robust red wine such as a Châteauneuf-du-Pape or a slightly sweet dessert wine, such as a Sauternes, or a Madeira, to pair with it. Pairing wines with French Cheeses is a topic of great interest to most cheese connoisseurs.
As a point of interest - in January, 2009, as the Bush Administration was leaving office - it threatened war upon Roquefort Cheese, as retaliation for the European Union banning imports of U.S. beef containing hormones. The threat was real - a tariff of 300% !! - which would effectively price the cheese out of the American market entirely. Fortunately, this little global tiff did not come to pass; an agreement was reached and Roquefort continues to be exported to the U.S. without the horrendous tariff. Cheese lovers can be very grateful that we can still buy our wedges of Roquefort. It is such a versatile cheese - great in sauces, crumbled over salads, or just by itself.
Rich, sensuous, sexy - the King of the Blues - along with Stilton.
To try making the best Gourmet Blue Cheese Dressing, click here.

---
Go to Entertaining - The Ultimate Cheese Course


---
HOME

›
French Cheeses M-Z
› Roquefort
---

Looking for something specific on GourmetCheeseDetective.com?
Enter your request below:

---
Follow The Gourmet Cheese Detective on Twitter: @The_Cheese_Tec
---