French Regions
and Their Special Cheeses

the Best French Regions for Cheese Include Provence, Corsica, Normandy and Brittany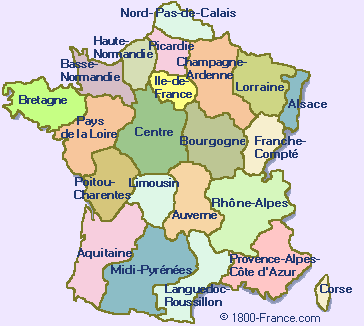 Some French regions are well-known for the wide variety of outstanding cheeses they produce. Some are better known for other products (such as Brittany for fish). Here's a brief rundown of some top cheeses you may recognize and will want to look for in your cheese shop.
Normandy & Brittany: Camembert de Normandie, Pont-l'Évêque, Livarot, Brillat-Savarin, Port Salut

Nord-Pas-de-Calais & Picardy: Maroilles, Mimolette, Boulette d'Avesnes

Champagne-Ardenne: Langres, Chaource

Île de France: Brie de Meaux, Brie de Melun, Coulommiers, Boursault, Pierre Robert, Fontainebleau, Gratte-Paille, Explorateur

Alsace & Lorraine: Munster, Le Brouère

Pays de la Loire and Centre: Crottin de Chavignol, Selles-sur-Cher, Valençay, Sainte-Maure de Touraine, Pouligny-Saint-Pierre

Burgundy: Époisses de Bourgogne, Charollais, Chèvreton de Mâcon, Soumaintrain fermier, Cîteaux, Bleu de Bresses, Montrachet, Boucheron

Franche-Comté: Gruyère de Comté, Emmental, Morbier, Vacherin du Haut Doubs (Vacherin Mont d'Or), Bleu de Gex

Rhône-Alpes (Savoie): Reblochon, Tomme de Savoie, Beaufort, Raclette, Tomme de Montagne, Abondance

Auvergne: Saint-Nectaire, Gaperon, Fourme d'Ambert, Cantal, Salers, Roquefort, Bleu des Causses, Laguiole, Bleu d'Auvergne

Aquitaine: Rocamadour, Tomme Fleur Verte, Cabécou

Provence: Banon, Saint-Marcellin, Picodon de la Drôme, Picodon de l'Ardéche

Midi-Pyrénées & Basque Area: Sheep's milk cheeses from local fermiers, Ossau-Iraty Brébis Pyrénées (A.O.C. version), as well as non A.O.C. Brébis cheeses: Etorki, Onetik, Prince de Claverolle, Esbareich

Corsica: Brin d'Amour
---
To learn more about the French regions, French cheeses
and other produce, visit
FRANCE TRAVEL GUIDE,
a comprehensive and developing website
to the whole of France written by
a dedicated UK-based Francophile travel writer.
---
Go to Pairing French Cheeses with Wine

Go to French Cheeses A to L

Go to French Cheeses M to Z


---
HOME
› French Regions
---

Looking for something specific on GourmetCheeseDetective.com?
Enter your request below:

---
Follow The Gourmet Cheese Detective on Twitter: @The_Cheese_Tec
---