World Champion
Cheese Trolley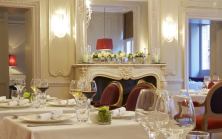 Press Release, October 2012

A World Champion Cheese Trolley will feature a selection of 14 cheeses awarded a Super Gold status by a panel of 204 judges from 28 different countries. Each cheese has been carefully chosen for its distinct flavour. The cheese trolley will be available in the restaurant (right) during lunch and dinner, and in the bar from noon until 7pm. The cheeses have also been paired with "Gold Star" award-winning beer from the Great Taste Awards, for those seeking an alternative tipple to wine.

Pairing beers with cheeses has become a cultural British tradition over the last 50 years, but people have combined the two since the late 1830s.

The comprehensive international cheese selection will include:
Ossau Iraty Fromagerie Agour – France
1883 Vintage Farmhouse Cheddar – UK
Le Gruyer AOCe Permier Cru – Switzerland
Brillat Savarin – France
Brie de Meaux – France
Villarejo Manchego DOP Curado – Spain
Paski Sir – Croatia
Cornish Blue – UK
Gorgonzola Dolce DOP - Italy
Quickes Traditional Vintage Cheddar – UK
Landoed Matured – The Netherlands
Creamy Gorgonzola – Italy
Rogue River Blue – US
Killeen Goat – Ireland
Blur bassist, Alex James said: "This really is the best cheese trolley in the world.The variety and quality is simply outstanding, making it an absolute must for cheese aficionados!"

Contact Details:
Cadogan Hotel
21 Pont Street
Knightsbridge
London SW1X 9SG
Reservations on 0800 023 5445 or email info@cadogan.com
---
Go from World Champion Cheese Trolley to
Pairing British Cheeses with Wines, Ales and Ciders
---

Looking for something specific on GourmetCheeseDetective.com?
Enter your request below:

---
Follow The Gourmet Cheese Detective on Twitter: @The_Cheese_Tec
---